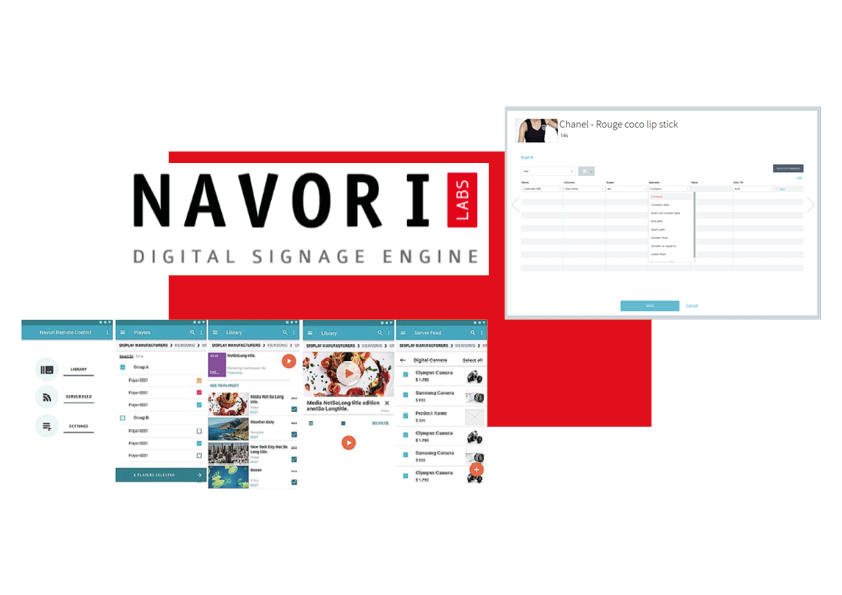 TO NAVORI PARTNERS INDUSTRY & INNOVATION 2019
RECENT MOVES IN THE DIGITAL SIGNAGE INDUSTRY:
In 2017-2018, our industry reached a milestone where many independent software vendors targeting customers globally were acquired by legacy system integrators: Scala and X2O (Stratacache), Comquii (AU Optronics is a hardware manufacturer developing SI services) and Onelan (Uniguest). These system integrators intend to play a dominant role in providing software solutions internationally, mostly for retail stores and quick service restaurants. These legacy software vendors models consisted of selling through as many system integrators as possible. Being acquired by a competitor of their customers would narrow their play field.
Display vendors have been promoting their homemade software to resellers for basic and lower to mid-range functionality. These products are often built to only function with the manufacturer's hardware, offering little sophistication and limited scalability.
Over the past decade, the software portion of an end-to-end signage solution grew from 10% to 20-30% of the CAPEX. Thus, Navori became the #1 professional software vendor with a large footprint in EMEA and North America. Our revenues have grown by an average of 35% annually since 2010. We have tripled our engineering team with the intent to create an innovation gap with system integrators and hardware manufacturers software.
NAVORI'S PRODUCT INNOVATION PLAN FOR 2019 QL VERSION 2.1 – EXPECTED RELEASE ON FEBRUARY 2019 • Smart / conditional playback and triggering: In addition to the traditional triptych: user programming, library, playlist / scheduling, ruled based or conditional playback will emerge. Imagine a store player showing self adapted content based on local weather, actual deliveries, marketing priorities and stock. This is what it's about. QL 2.1 integrates both conditional playback and triggering based on any type of data feed, including social media.
QL VERSION 2.2 – EXPECTED RELEASE ON APRIL 2019
Easier / QL Manager mobile: We found that there is still a barrier between CMS users and the digital support. In retail, public venues and sometimes corporate communications, non-desk employees represent a majority of the workforce. Granting local users, a pre-defined control is a value add. Despite Navori's strong reputation in terms of ease of use and a zero ramp up UI, we are widening the gap by releasing a QL manager version for mobile devices running on both Apple and Android OS. Beyond traditional CMS features, users will be able to publish snap shots, express message and trigger and control content across one or multiple displays. Add-on required: BAP-12 QL Manager Mobile, price per player
Multi-display and multi-player synchronization: Synchronizing content across players has always been a challenge that Navori addresses with two distinct solutions:
For videowalls or large LED layout: IPR 8K engine: The traditional solution is one player per display, video synchronization only. We found these solutions too complex to deploy and operate. It is also limited to videos which is often not enough for digital signage. Navori has created Insane Performance Rendering (IPR). This high-performance player runs any content with a 1/30th of a second synchronization across 16 full HD displays or 8K. Requirements: Windows PC with AMD or Nvidia graphic card. Add-on: BAP-21Insane Performance Rendering (IPR)
For multi-player synchronization: When multiple screens are visible at a glance, Navori releases a cross platform solution. Players belonging to a given QL group will be synchronized by default. Android and Windows will sync to 1/5th of a second, Tizen and WebOS to the second. Requirements: Windows, Android, Tizen and Web OS including SoC. Add-on: BAP-14 Content Synchronization
TECHNOLOGY CONSIDERATIONS:
QL 2.1 comes with a revamped backend, introducing the notion of web sockets which are direct and permanent connection between players and server. Player's triggering is done through QL Server, enabling to control and play content across multiple players no matter the OS it is running onto. User interface can be QL manager mobile or any third-party web app developed using the latest API.
Conditional playback and triggering enable Navori partners to have a full control of the played content from any data feed such as XML files, featuring true data driven, smart and dynamic content.
A new QL Server API will be released in May 2019, enabling Navori partners to control QL from a third-party program or UI using web developers. Connecting QL to sensors, cameras will be a matter of days or less.